Long's Family Retreat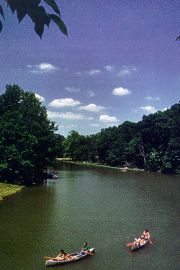 In 1971, Eric (Tipp) Long opened a small 25-lot campground with a beach and concession stand.  Though he wondered if anyone would find the small attraction, along Bell Hollow Road, 27 years later, Long's Retreat has grown into a 400-acre, 450-site campground with one of Ohio's most complete outdoor recreational facilities.
Several new amusements were opened in 1998 including a 238 foot long tube water slide, trampoline basketball, a driving range, a "Moonbounce" and two 3-bedroom deluxe cabins.  Other attractions include: a 20-acre lake for swimming, boating, and fishing; two go-kart tracks; 13 cabins; miniature golf; bank shot basketball; an orbitron; volleyball; basketball; tennis courts; baseball field; a game room; horseshoes; hayrides; shelter houses, and plenty more.
At a time when Eric Long needed a job,Cave Lake inspired the idea for Long's Retreat.   In 1968, Eric graduated from Western High School, in Latham.  He worked for 2 years for his parents, Dwight and Rosalee Long, while he attended Ohio State University.   After realizing he needed a job, Eric questioned his father about putting a campground site on the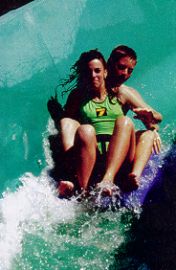 family farm where they had created a lake.  The original barn and farmhouse are still in use, however the farmhouse has been converted to the present day game room.
After Eric received a business degree from OSU in 1973, he went back to school for a degree in education from Wilmington College. Along with running Long's Retreat,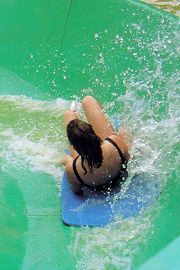 Eric has also taught at Western High School.  He was forced to stop teaching when Long's Retreat needed his complete attention.  Long's new attractions, future expansion plans, and current maintenance to ensure customer satisfaction is his main focus.
The new cabins are 2 bedroom with a loft with 2 beds, and they're completely furnished with fireplace, TV, VCR, kitchen, full bathrooms, and more.  The tube is an enclosed slide that winds beside the 341-foot underground slide.  The "Moonbounce" is for small children to bounce up and keep their opponents ball from going through the goal.
They also have a convenience store on site, a concession snack bar, propane, hot shower and restroom facilities, laundry facilities, and security guards.
All of this is waiting for you at Long's Retreat .. one visit is not enough!