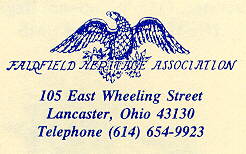 Lancaster, Ohio's National Register HISTORIC MUSEUMS

SHERMAN HOUSE MUSEUM 137 East Main Street Birthplace of Civil War General William Tecumseh Sherman and U.S. Senator John Sherman, author of the Anti-Trust Act.

THE GEORGIAN MUSEUM 105 East Wheeling Street Restored 1832 Mansion with period furnishings

Owned and operated by FAIRFIELD HERITAGE ASSOCIATION


For information contact the Heritage office. 105 East Wheeling Street Lancaster, Ohio 43130 Telephone (740) 654-9923


ADMISSION. $2.50 Adult, $4.00 for both museums $ 1.00 Student (6-18), $1.50 for both museums Group rates available.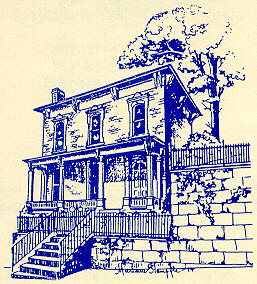 OPEN.- Guided tours April 1 through mid-December, Tuesday through Sunday, 1-4 p.m., last tour starts at 3:15 p.m.
CLOSED: Mondays and major holidays. Tours available year around by prior arrangement.
The Historic District is located in downtown Lancaster, Ohio, 30 minutes southeast of Columbus, 2 blocks east of U.S. Rt. #33.