Brukner Nature Center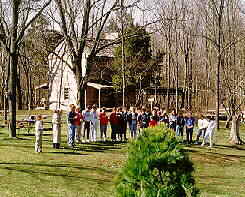 PURPOSE - Brukner Nature Center is organized exclusively for charitable, educational and scientific purposes. As a non-profit organization, Brukner endeavors to provide meaningful experiences that emphasize natural history and the environment for the people in and beyond Miami County. Brukner functions as a nature study and an environmental education center.

HISTORY - Brukner Nature Center, incorporated on June 17,1967, was developed on property owned by Clayton J. Brukner and maintained by him for many years as a wildlife refuge. it is governed by a Board of Trustees and is supported by memberships, user's fees, gifts, donations, bequests and a modest endowment. Brukner receives no tax support or support from any other organization.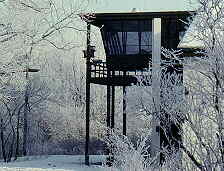 FACILITIES - The Interpretive Center houses display areas, an auditorium, a 1,000-volume natural history reference library, administrative offices, restroom facilities and a gift shop on the first floor. The lower floor contains classrooms and the nationally recognized animal rehabilitation center. The top floor contains a glass-enclosed vista room for watching and listening to birds as they feed. A ground-level viewing station for mammals is also available.
The restored 1804 Iddings Log House is located on its original site near the Interpretive Center and parking area.
The 165 acres of rolling hills, accessed through six miles of hiking trails, contain a pine forest, deciduous woods, thickets, a prairie, a swamp, ponds, streams and the Stillwater River.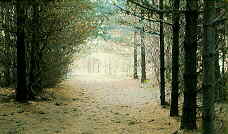 EDUCATION PROGRAMS - The nature center offers both school programs and after-school programs for students and adults. The school programs include the Brukner Environmental Education Program (BEEP), the Frontier Ohio Program, Pre-school Environmental Education Program (PEEP), live animal presentations and nature-awareness programs.
The after-school programs for students include summer programs for children, day camp