MacGahan County Seat District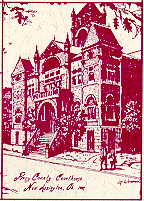 PERRY COUNTY COURTHOUSE - Built in 1887 for $145,000, this beautiful architectural building is constructed of pink and tan brownstone and patterned after european castles. State Route 13, Main Street, New Lexington.

JANUARIUS MacGAHAN STATUE- MacGahan was the Liberater of Bulgaria. Enroute here his body lay in the govenor's room of city Hall in New York and at the State Capitol in Columbus. Each year in the month of July, the MacGaban Festival is held in New Lexington. Bulgarians from across the country come to New Lexington to honor MacGahan at that time. The statue is located in the park directly across from the Perry County Courthouse, State Route 13, Main Street, New Lexington, Ohio. Another statue is placed at grave cite in nearby Maplewood Cemetery.

PERRY COUNTY DISTRICT LIBRARY - Built in 1990 this spacious, modern center of life-long leaming is located on Jackson St. in New Lexington one block cast of the courthouse. Contains extensive genealogy and Januarius MacGahan collections and rotating lobby exhibits. Meeting space available. Open Monday through Saturday and most evenings, Call (740) 342-4194.

PERRY COUNTY VIETNAM WAR, KOREAN, WORLD WAR II MEMORIAL - Rededicated November 11, 1990, to include VietNam and Korean veterans, this extensive memorial is located in Monument Square at the intersection of main Street and West Broadway (St. Rt. 37-13) New Lexington.